---
PEPSI POPSTAR

CLIENT
↳ Pepsico

WORK
↳ Creative Direction

PROJECT
↳ Experiential/Installation
↳ Non Ride Attraction
↳ Game Design
↳ Branding

DATE
↳ 2021



---
Pepsi was looking for a partner to help them reimagine their attraction presence in Hersheypark Pennsylvania. They challenged us to think about how we can illicit the feeling of 'Unapologetic Joy' to the thousands of guests who visit the park every year.

Tapping into the spirit of Pepsi's storied connection with pop music, we designed a non-ride attraction designed to immerse our guests in the feeling of pop stardom.

We designed an avatar generator that would map your face to the character you choose. After selecting a track, this avatar would be used as the centerpiece for an interactive dance game on a full length screen with points earned for accurate timing.

Each screen lived in a physical pod designed to let guests feel free to express themselves naturally.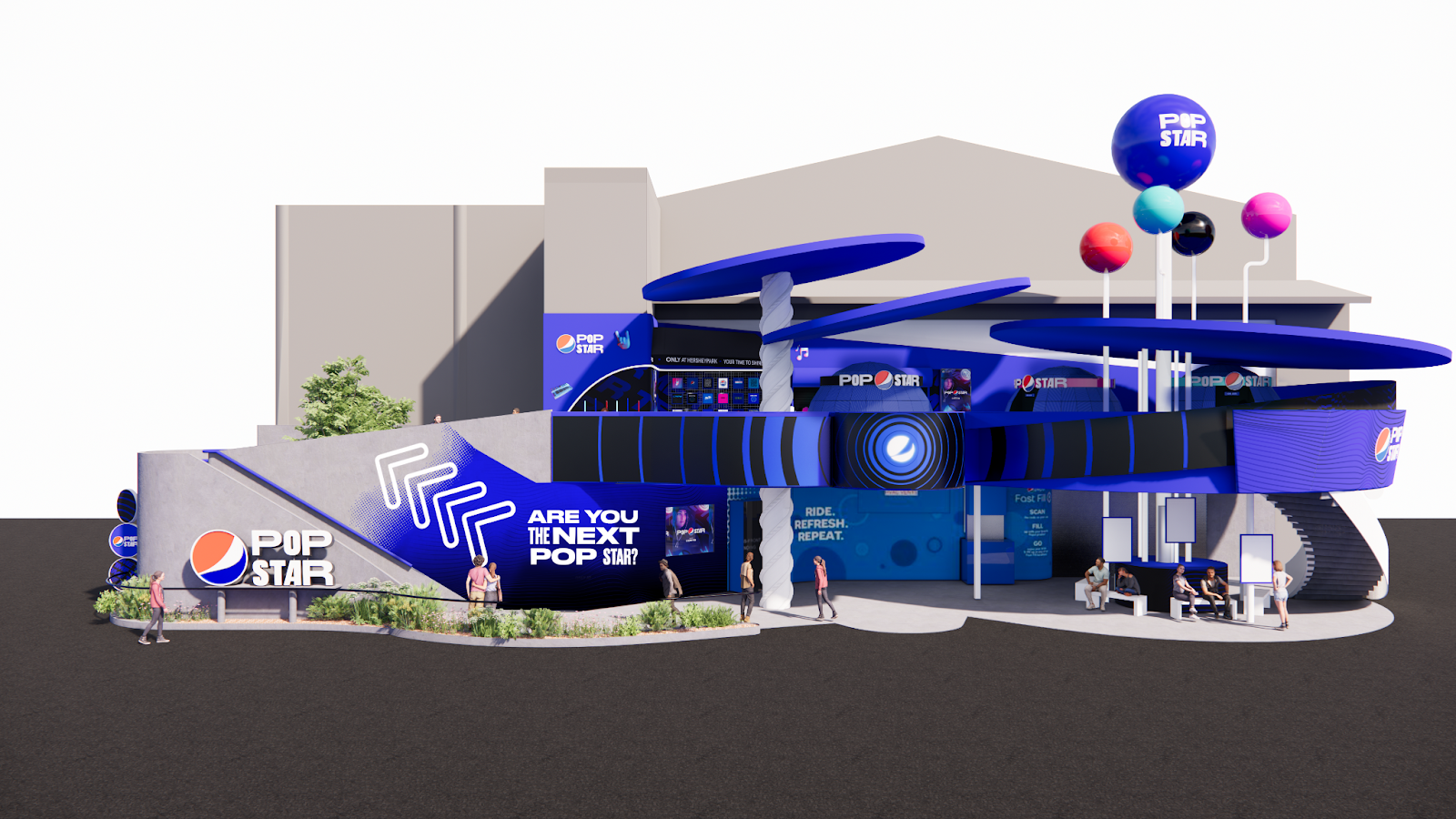 CREDITS
---
CREATIVE DIRECTOR
↳ Adam Romano

DESIGNERS
↳ Danilo Nagura
↳ Andrea Mata

3D/MOTION
↳ Andrea Arice
↳ Cyrill Durigon
↳ Kousha Motamedi

TECHNICAL DIRECTOR
↳ Dimitrios Doukas
↳ Fabio Toste

STRATEGY
↳ Jack Wilkinson

MOTION DIRECTOR
↳ Branko Jass

EXECUTIVE PRODUCER
↳ Karli DeFilippo

PRODUCERS
↳ Alex Predusel
↳ Shannon Kennedy
↳ Cassandra Hyde

COPYWRITER
↳ Evan Doherty

FABRICATION
↳ JuiceWorks

CHOREOGRAPHY
↳ ChallengeArts

PEPSI
↳ Rachel Prowler
↳ Amanda Chapin
↳ Deb Kugler
↳ Leon Imas
↳ Mark Rakhmanov
↳ Megan Ippolito
↳ Alessio Scalabrini
↳ Pamela Madigan
awards
---
FWA
↳ FWA of the Day 2022

ADCC
↳ [Bronze] Interactive/Digital Installations